EVERY CHILD DESERVES THE OPPORTUNITY TO GO TO SCHOOL
We are committed to building 3 United World Schools in Cambodia over the next 3 years
United World Schools' mission in Cambodia is to improve the education provision for the ethnic minorities in the forested north-east region of the country. These people live in the remote areas and to-date have never had any formal education provision. At present there are 54 active UWS community schools in Cambodia with a further 11 planned for development in 2017. Each school aims to enrol 200-250 students from grades 1-6 and needs to be partnered to a school in an OECD country.
Why does Naomi Findlay want to help UWS build schools?
59 million children have no access to a basic primary education
Of these children, 25 million are in the rural, low-income, post-conflict regions that UWS targets
Since 2010 international aid to basic education has been falling...
...and less than 1/3 of the aid is allocated to low-income countries
If all children in low income countries achieved basic reading skills, 171 million people could be lifted out of poverty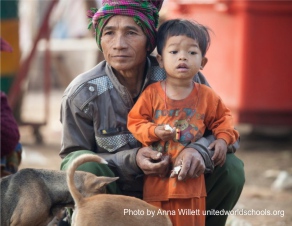 Due to the poor provision of basic education there are 774 million illiterate adults in the world today
Without a basic education, the children UWS work with have little chance of climbing out of the poverty they were born into.
They're stuck in a cycle of poverty, at a greater risk of malnutrition, illness and disease.
When a child is educated...
"Education is the key to unlocking a country's potential for economic growth, improved health, gender equality, peace and good governance."
We invite you to join us and play a key role in transforming the lives of 50,000 children through education
UWS is transforming the lives of children in some of the poorest arts if the world by providing them with free primary education. Be part of this story.
Working in the poorest parts of the world means we can keep our costs low whilst still achieving tremendous impact. Your support goes further.
The UWS team has proven its educational concept, value and scalability at a regional level. Help us take it to scale and benefit thousands more children.
Donating at this stage will enable UWS to step up, build a highly effective, sustainable team, and help 50,000 children the next five years.
UWS delivers a phenomenal return on your donation: a full course of primary education for each student costs less than £250 and boosts the average incremental income by £16,500 over that student's lifetime – your donations offer a social return on investment of thousands of percent.
Join me in the fight to end the poverty cycle and change a life through education  - contact us on [email protected]